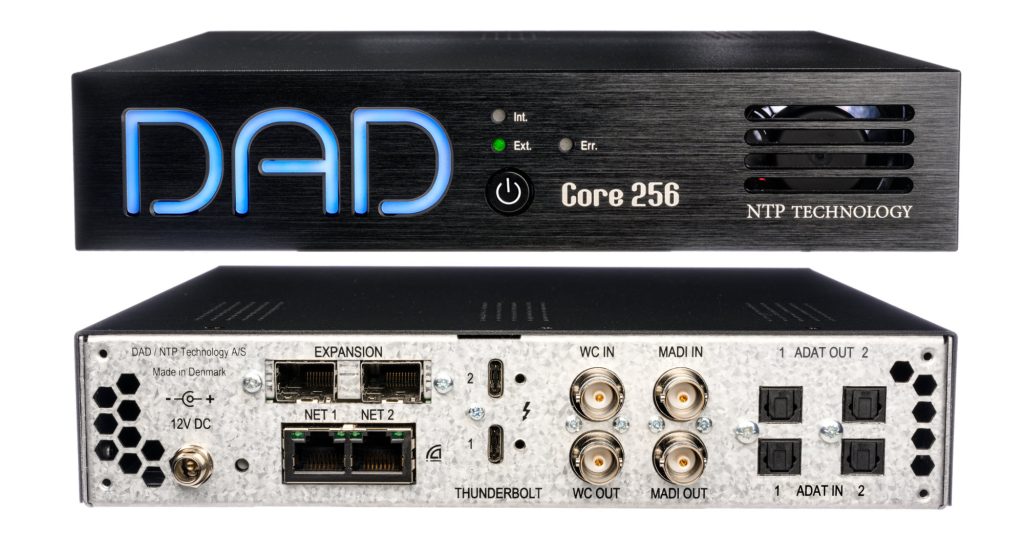 THE TINY IMMERSIVE AUDIO HERO
Massive Flexibility. Small Footprint. Immersive Power.
Core 256 does not take up much space, but the power you can squeeze out of this little box makes it punch well above its weight.
With tons of channels, a wide palette of digital connectivity, built-in SPQ processing, Eucon control compatibility, internal summing engine and drivers for macOS and Windows 10, it is a pristine digital audio interface by any measure and for just about any application.
However, there is one application that should be emphasized in particular: Core 256 is simply the perfect Dante and MADI interface for Dolby Atmos® RMU.
The size and shape of Core 256 fits nicely for sharing a 1U rack shelf with a Mac Mini running Dolby Atmos® Renderer, Dolby Atmos® Production Suite or Dolby Atmos® Mastering Suite. For immersive audio post production facilities, this solution will represent the missing link that streamlines and optimizes the multichannel workflows seamlessly.
More Applications
Even though it is a tiny Dolby Atmos® hero, Core 256 is of course ready to take on a wealth of other tasks in the Post Production, Studio and Installed Audio spheres.
With Dante, MADI and ADAT ports onboard and versatile and flexible DADman routing control available, it is also a stellar D/D converter that can grab any digital audio channel – convert it if needed – and route it anywhere.
Another application would be as a dedicated audio interface for your DAW. Whether you run Pro Tools, Logic Pro, Nuendo, Cubase, Ableton Live, Digital Performer or any other DAW, Core 256 is your super low-latency entrance.
And with the ADAT, MADI and Dante connectivity, you can easily add analog preamps or insert points to the mix.
Further, all inputs and outputs have processing for level adjustment and in addition, the core has a summing/mixing processer with 64 output busses and 512 inputs, which can be allocated to sets of input and output signals managed by the Pro|Mon monitor control functionality in DADman.
SPQ speaker EQ management is available natively in the core with access to 1,024 filters combined into 64 channels with 16 filters, each with adjustable delay, which also makes Core 256 a stellar monitor controller.