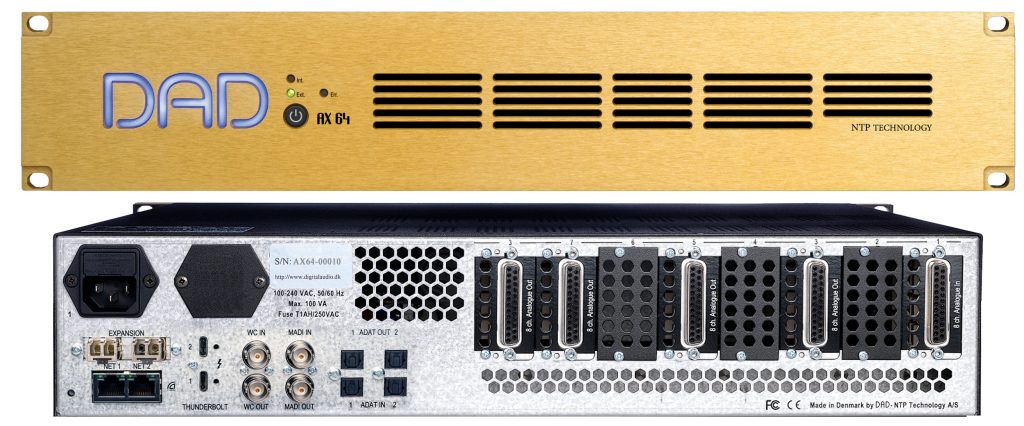 NEXT-GEN AD/DA/DD & AUDIO ROUTING
AX32: "I made a dent in the pro audio universe."
AX64: "Hold my beer!"
Please meet our new, versatile and modular multi-format audio interface with 8 slots for the acclaimed audio I/O cards known from the AX32 and Penta product family.
Up to 8 analogue cards can be installed, providing 64 analogue input or output audio channels with the renowned DAD high-end sonic quality.
With tons of channels, a wide palette of digital connectivity, built-in SPQ processing, Eucon control compatibility, internal summing engine and drivers for macOS and Windows 10, it is a pristine digital audio interface by any measure and is suited for just about any application.
In short, AX64 is the ultimate modular multi-format interface, which is ready to take on a wealth of tasks in the Post Production, Studio, Live Music and Installed Audio spheres.
Overview
• 1,744 Input and Output Channels
• Multi-Format Audio A/D, D/A and D/D Converter
• Router and Monitoring Interface Thunderbolt 3 I/O (256 Ch.)
• Dante AoIP I/O (256 Ch.)
• MADI I/O (64 Ch.)
• ADAT I/O (16 Ch.)
• 8 Slots for Optional Multi-Format DAD I/O Cards
• 512×64 Ch. Pro|Mon Summing and Speaker EQ Processing