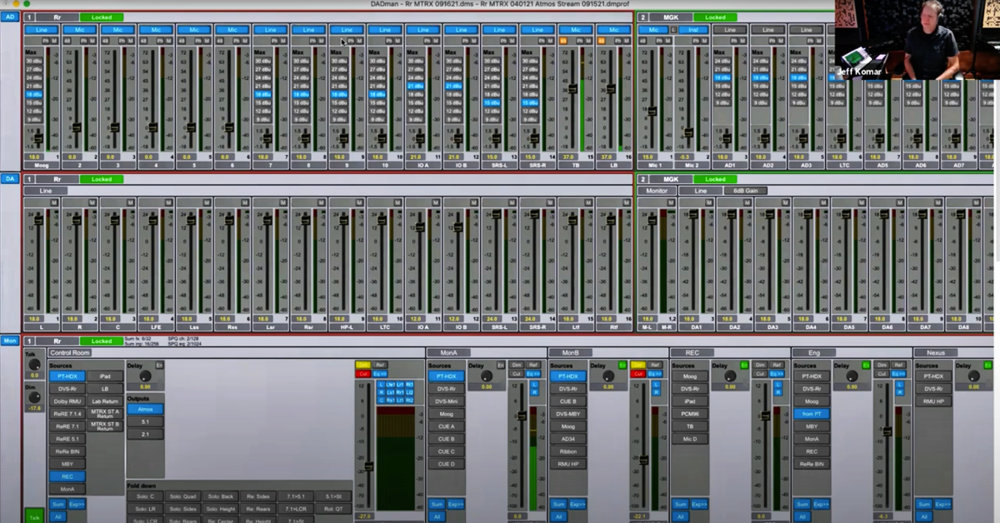 Avid's Jeff Kormar hosts a round of 'Coffee & Consoles', focusing on how to make the most of MTRX and MTRX Studio in this video.
Naturally, DADman is a paramount and very central part of achieving that, and apart from the Pro Tools-specific mentions, you can more or less apply most of the session to DAD AX32 and Penta 720 / 721s Series as well.
This session examines the concepts of signal flow and I/O patching and monitoring with the MTRX and MTRX Studio products.
Understanding and managing the PRO | MON monitoring environment in DADman, whether for stereo or Dolby Atmos workflows, is a critical part of working with the MTRX devices.
Some creative and unconventional uses for Fold Downs, Talkback, and Monitor paths are also explored.
Topics covered in this session:
00:00 Introduction
02:55 Device List in DADman – connected devices overview
03:35 PRO | MON and Monitor Profiles – structure of Monitors
06:00 Control Room Sources
08:15 Control Room Outputs
09:20 Control Room Fold Downs
10:06 Control Room Meters
10:30 Monitor Sources – Add Existing
10:55 Import from Profile
12:15 Signal Flow using the Con patchbay
13:30 Labeling DigiLink and MADI ports in DADman
14:20 Patching Analog I/O into Pro Tools
16:50 Monitoring and Patching Sources
18:50 Patching the Dolby Renderer to MTRX
23:30 Returning Speakers and ReRenders into Monitor Profile
25:20 Patching 5.1 and BIN ReRenders from MADI to Dante
28:55 Dante Optimization and Best Practices
30:40 Creating and assigning a 9.1.6 Custom Group format
34:55 Bass Management
38:26 Control Systems: MOM, MTRX Studio & EUCON
39:45 Unconventional Applications of Fold Down Matrix
42:30 Speaker Group Solos with Fold Matrix
45:30 Alternative Applications for the Meter Path
50:10 Setting up a Talkback Slate to Pro Tools
51:55 Sending LTC over the Dante Network
54:10 Input EQ and Delay Processing